This article was originally posted on FOOD BUSINESS NEWS.
CHICAGO — Veganism is a way of living. In dietary terms, it's the practice of avoiding all foods and beverages derived wholly or partly from animals. Vegan is so much more than plant-based, which is why some food marketers have started including a vegan claim on product packaging. However, going from plant-based to vegan comes with challenges, namely careful selection of every ingredient to support the claim.
Infrastructure is important, too. A dedicated vegan manufacturing plant may go as far as ensuring soaps and sanitizing solutions are vegan. Some employers may request employees not wear leather, while others might only stock vending machines and coffee stations with vegan products. The Cinnaholic bakery franchise, for example, has an employee policy of not bringing any animal-based foods into the stores.
Interest is being fueled by consumers who prefer animal-free alternatives for the benefit of animals, humans and the environment. The obvious animal foods they avoid are meat, poultry and fish, along with dairy and eggs. Insects are prohibited, as are honey and wax.
Carissa Kranz, attorney, founder and chief executive officer, BeVeg International, Jupiter, Fla., a vegan certification firm, cautions about hidden sources of animal. Sugar, for example, may have bone char. Milk derivatives feature lesser-known names like casein and lactose. The animal ingredients even may be used as carriers for other ingredients, such as flavors and colors.

Unless a packaged food product has the word "vegan" on the label, it is often impossible to be assured the product is animal-free. Natural flavors are one of the most common hidden sources of animal.
The US Food and Drug Administration allows food and beverage manufacturers to protect formulations by using the ambiguous terms "natural flavors" and "artificial flavors" on ingredient statements. Natural flavors may be developed using a wide variety of animal- and plant-based ingredients. Artificial flavors rely on synthetic chemicals to add taste and aroma to food. In other words, artificial flavor may only refer to products not made from any plant or animal product; therefore, artificial flavors are vegan, but natural flavors may not be unless the product explicitly states it is vegan.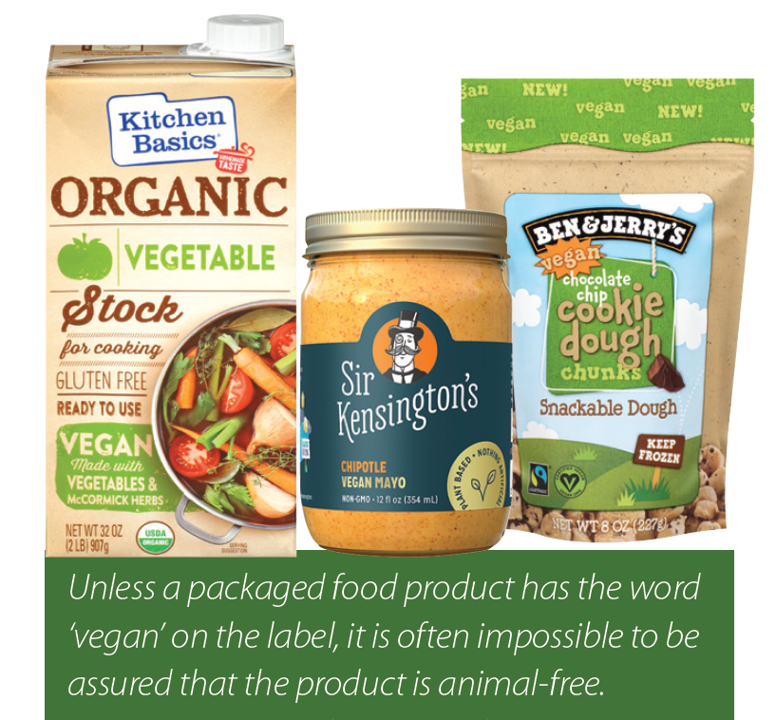 Walden Farms, Rochelle Park, NJ, is launching a re-brand of its salad dressings, which includes new formulations with natural flavors. While the products previously were vegan, the company wanted to ensure its customers that this has not changed, and now bottles sport a vegan claim.
Artificial colors are also vegan, as they are made from petroleum. Natural colors, on the other hand, may not be vegan. Carmine, for example, is a red color produced from the bodies of dried female beetles or cochineals. Its inclusion must be called out on ingredient legends, so a knowledgeable vegan will be able to avoid it. The same is true for squid ink, which is used in pasta, rice and sauces.
Xanthan gum is an example of an ingredient that one might assume is vegan, but may not be. The texturant is produced by the fermentation of sugar. While most sugar comes from plants, there's no guarantee. It is possible to produce it from lactose, which comes from milk. Xanthan gum also may be deemed not vegan when the enzymes used to purify the gum are sourced from an animal. Such processing agents are a common way for a food ingredient to be disqualified as vegan.
Gelatin and collagen are proteins derived from animals and only animals; but, not everyone knows this. The former ingredient may be used as a thickening agent in all types of foods and may be found in plant-based puddings and non-dairy frozen desserts. The latter ingredient, all the rage in the wellness community, may be found in everything from flavored waters to yogurt to drink mixes.
Collagen is the main component of connective tissue, and thus is the most abundant protein in mammals. There is no such thing as vegan collagen; however, because the body is able to make collagen when given proper nutrition, vegan-based collagen products in the market are actually collagen boosters. They contain plant-based ingredients recognized as assisting the body with producing collagen.
Two other animal-derived proteins that often are used in plant-based products come from cow. One is casein, which long has been used in imitation cheese and non-dairy creamer. It may be listed as calcium caseinate or sodium caseinate. Whey is the other. This byproduct of natural cheesemaking is used in products one might assume to be vegan, such as bread, nut butters and confections.
One of the most common mistakes formulators make is thinking they can replace a functional animal-based ingredient with another single ingredient. In most applications, this is not possible. There are exceptions to the rule. For recipes that use honey, try maple syrup. Sometimes pectin works in place of gelatin.
Grain-based and vegan
The baked foods category is trending in efforts to go vegan, as ingredient suppliers have made much headway in dairy and egg substitutes. Once that is accomplished, the rest is simply ensuring the vegan status of other ingredients.
Abe's Vegan Muffins from Pearl River Pastry, West Nyack, NY, focuses on being free of many common allergens, except wheat flour. This makes it possible to bake leavened products.
"Our vegan pound cake is a bit denser than traditional egg and butter pound cake, but just as rich and delicious," said Joseph Koffman, founder. "We are particular with our ingredients. It's the way we mix them and how we bake it."
Allergy concerns were the motivation behind the dairy-free cookies coming from Fat Badger Bakery, Pipersville, Pa. The company went completely vegan in 2018, eliminating the eggs and honey that were staples in many of its formulations.
"This was more challenging in some varieties than others," said Gretchen Dossa, general manager. "We had to work on the spread and mouthfeel. There were a lot of bad cookies."
Fat Badger formulations use Earth Balance vegan buttery spread, a brand of Conagra Brands Inc., Chicago. The butter replacement is based on palm fruit, canola and olive oils, sunflower lecithin, lactic acid and annatto extract, a combination that functions similar to butter with a dairy taste and rich appearance.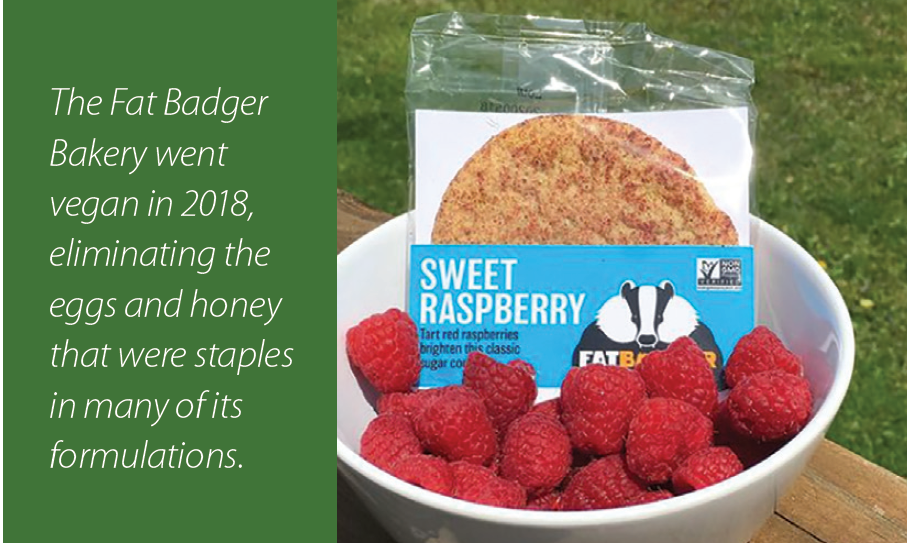 Another key ingredient is organic flaxseed, a well-recognized butter substitute. Omega-3 fatty acid-rich ground flaxseed helps reduce fat calories and omits cholesterol, while contributing calcium and fiber.
The Cinnaholic bakery franchise, which offers customized toppings for freshly baked cinnamon rolls, works with multiple vendors, all of whom must be approved to supply vegan ingredients. This restriction allows individual franchises options for purchasing raw materials.
"We make a soy-based frosting in each store and then flavor it with natural ingredients," said LeAnne Cavallaro, director of operations. "We make most of the toppings in house, from homemade cookie dough to peanut butter cups."
The one ingredient that all stores purchase from the same vendor is the mini marshmallow topping. Dandies Marshmallows from Chicago Vegan Foods are made with tapioca, cane sugar, carrageenan and soy protein.
Chef Ashtin Martinez, who bakes vegan cakes for The University Club of Milwaukee Country Clubs and Celesta Restaurant, as well as caters to the greater Milwaukee area, also purchases Dandies Marshmallows. But one surprising topping she makes herself is sprinkles. Traditional sprinkles typically include a wax ingredient from either plants or bees, with the latter disqualifying them from being vegan.
"The process is very time consuming but worth it," Ms. Martinez said. "It's a chickpea base that I color and then hand pipe into strands, with about 20 to 30 strands per pan. They air dry overnight and then I cut them into sprinkle size."