VEGWORLD: VEGAN LAWYER LAUNCHES 'LAWS THAT MATTER: VEGANISM & LAW' SHOW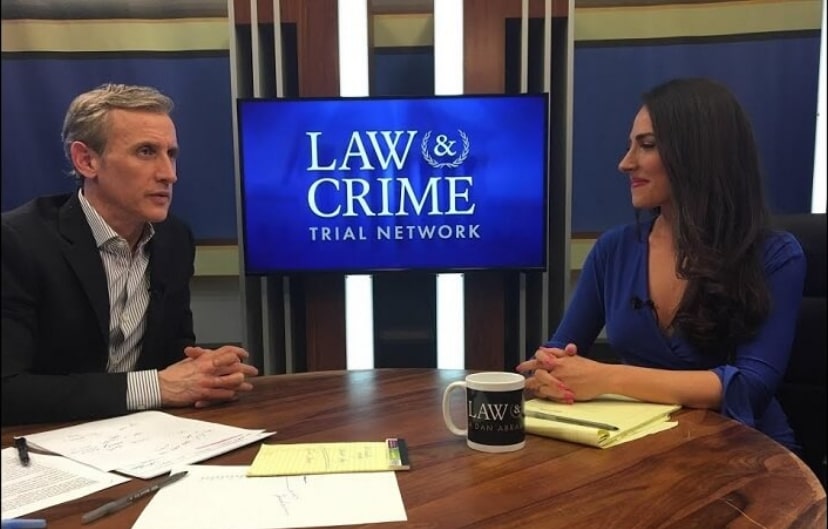 Dan Abrams, Chief Legal Expert of ABC News (left); Carissa Kranz, TV legal expert (right)
National TV legal personality, Super Lawyer, Founder and CEO of the BeVeg vegan certified symbol, and vegan from birth, Carissa Kranz, officially launches a new digital media show on JaneUnchained News Network: LAWS THAT MATTER: VEGANISM & LAW!
Besides anchoring on JaneUnchained News Network as the resident legal analyst, Carissa is the legal expert for major media networks like Fox, CNN/HLN, NBC, CBS, and shows like Nancy Grace and Dr. Drew. Carissa was also an anchor in New York City with Dan Abrams covering the country's biggest court trials live for Law and Crime Network with distribution on A&E and Sirius radio. Most recently, Carissa co-hosted with award-winning journalist, and founder of Jane Unchained News, the Jane Velez-Mitchell, an Amazon Prime vegan cooking show New Day New Chef.
The first episode of Laws THAT Matter was breaking news. Last week, Carissa filed a petition for rule-making in New York to shut down and permanently ban all live animal wet markets, which was covered as a CBS News exclusive the day before. The Trump Administration announces executive action to keep slaughterhouses open, at the risk of human lives during the coronavirus pandemic. Union workers are protesting their order to return to work and inability to collect unemployment should they choose to stay home. A federal law passed to allow for inhumane high speed slaughter. "Wet markets" on U.S. soil are finally being discussed and exposed on mainstream media.
Carissa and a panel of thought leaders on the front lines fighting to shut down "wet markets" and slaughterhouses across the country discussed all of these intricate legal topics. The panel of experts and animal advocates included Edita Birnkrant with NYCLASS, Jill Carnegie with Slaughter-free NY, Donny Moss with Theirturn.net, and Nora Marino, a NY Super Lawyer and animal rights activist.
The Laws THAT Matter weekly show discusses useful legal news for the vegan community. Besides breaking world news, other topics to be discussed include vegan labeling laws, vegan parenting rights – who determines the nutrition of the child, vegan patient rights, vegan discrimination, should veganism be a protected constitutional class, how to exercise pandemic prevention hygiene, whether meat and dairy should have government warnings, government bailouts for animal agriculture, ag gag laws and more. Carissa authored a book addressing many of these potential vegan legal issues entitled Vegan Law: Know Your Rights. The book is expected to be published this summer by Vegan Publishers publishing house.
Since the show is a digital media show on JaneUnchained, there is opportunity for real-time engagement and questions with Carissa. The mission of the show is to have a meaningful dialogue to affect change. Much of the issues surrounding vegan law is ever-evolving and yet to be defined. While the show will have weekly thought leaders and engaging guests, anyone can be on the show and heard. Just type the question in comments and we will try to put it up on screen and answer it. While the show does not create or constitute any attorney-client relationship, the show invites legal scenarios to be discussed with the intended purpose of being part of the solution. While vegan law and animal law are yet to be fully defined, thought leaders on the front lines are fighting daily to bring about justice and make law.
This is a civil rights movement. Vegans should not be discriminated against for wanting to lead a compassionate conscious existence, and animals should not be discriminated against because they cannot speak for themselves. We are supposed to have equal protection under the law. Laws are intended to protect all beings, not just human beings. Through educated activism and engagement, laws will be defined and redefined until they are reflective of our intended legal system – justice and equality for ALL. There's a reason our enlightenment thinkers designated e pluribus unum to be the motto for the United States of America. It means "out of many, we are ONE. These are the Laws THAT Matter!"
The Laws THAT Matter show airs weekly on Wednesdays at 12p EST / 9a PST on the Jane UnChained News Network and are archived on the Laws That Matter YouTube channel.
Carissa, a former prosecutor, is the founding attorney for the Law Offices of Carissa Kranz, a premiere Injury Law Firm, that fights for all injured beings. "When we hurt animals, we hurt ourselves and the planet. It is all connected and interconnected," says Carissa. The law firm also manages BeVeg International, the leading global vegan certification firm as a practice area. BeVeg is the only law-firm-issued vegan symbol with global trademark protection. If you believe in honest labeling and the need for a global legal vegan standard, apply now to certify "officially vegan"! 100% of your vegan certification fee will go to Jane Unchained News Network, a 501c3 non-profit for animals and the vegan lifestyle. All BeVeg vegan certified products and businesses have the opportunity to be featured in upcoming show episodes. Get Vegan Certified Here.